This page highlights 20+ PS4 and PS5 games that support using a keyboard and mouse to augment your gameplay.
There was a time when the only relevant way to play video games on consoles was by using a gamepad, and every game was exclusively designed with that in mind, even if it did not fit certain genres very well.
But that time has changed as the gap between a gaming console and a computer seems to be closing down every generation, and we finally have default support for the keyboard and mouse on the PlayStation 5.
Whether you're a console gamer who wishes to try the keyboard and mouse for games that are better suited for it – or you're a PC gamer who is trying out consoles and wants more familiarity in terms of controls, you're here because you're looking for games that support that method of input.
Let's get to the list of PS5 Games now, shall we?
Our gaming keyboard recommendations:
The Best PS5 Games That Support Keyboard and Mouse
Not every PlayStation 5 game supports 120fps or Adaptive triggers from the DualSense (yet) a keyboard and mouse, so it takes a lot of time to look for every single game that does. Fortunately, to save you precious time and effort, we've created a list of 28 PS5 games that support keyboard and mouse, so sit tight and take a look at those games.
You'll have a wishlist filled with keyboard and mouse games on the PS5 in no time!
1. Call of Duty: Modern Warfare 2
⚡ Gaming Deals too Good to Pass On ⚡
Call of Duty: Modern Warfare 2 is currently the latest mainline entry in the long-running franchise and it's considered a return to form by millions of fans. Not only does it come with a great storyline that progresses the plot of the recent reboot – but it also features exciting multiplayer too.
Seeing legends like Ghost return is a great experience, and since the storyline is different this time, we don't have to worry about reliving the same strategies.
Fortunately, Call of Duty: Modern Warfare 2 supports native mouse and keyboard support, so whether you're new to this control scheme or already enjoyed it on a PC, you'll have a great time with this game.
2. Cities: Skylines 2
For so many years, Cities: Skylines was the only option for people who like city-building simulators because every other franchise has taken a backseat. But fortunately, a sequel for that game was finally revealed recently which features gorgeous graphics, larger cities, and many quality-of-life features that players were eagerly waiting for.
And just like before, this sequel will also have native mouse and keyboard support that players can use to freely build the city of their dreams. Because let's be honest, controlling an on-screen cursor with a gamepad is not nearly as fun or accurate as it should be.
The only catch is that this game does not come out until October this year, so you'll have a bit of waiting to do if you wish to play it.
3. Dark Souls: Remastered
Dark Souls: Remastered on consoles fortunately comes with native mouse and keyboard support, which greatly helps those players who originally enjoyed the game on a PC. However, even for those who only play on consoles – this is a great new way to enjoy the experience because it allows you to have more freedom in your inputs.
This game may be a remaster, but Dark Souls has aged beautifully throughout time thanks to its great worldbuilding, attractive atmosphere, difficult boss fights, and addicting gameplay loop. It's the game that truly brought the souls genre on the map.
Whether it's the best game in the trilogy or not, it's still a great time for newcomers and veterans of the genre alike.
5. Death Stranding: Director's Cut
Death Stranding may not be everyone's cup of tea, but it's a uniquely gorgeous game that everyone should try to experience at least once. The gameplay loop is very addicting and the open-world exploration is very entertaining. The graphics are great too and since the story is written by Hideo Kojima, it's almost like a movie script but in a good way.
The game has unique controls, so everyone has a different preference regarding them. Some like playing on a controller, while others prefer alternatives instead. Fortunately, Death Stranding Director's Cut on the PS5 features native mouse and keyboard support on the PS5, so you can enjoy the game any way that you like.
The game is often available for free to PlayStation Plus users, so you won't even have to spend too much to get your hands on it.
6. Deep Rock Galactic
Deep Rock Galactic is a wildly fun cooperative first-person shooter that features multiple classes, a great sci-fi atmosphere, and tons of exciting levels for players to shoot their way through. It may not be as famous as games like DOOM or Call of Duty – but it has a nice community that is still keeping the game alive years after its original release.
The game features native mouse and keyboard support on the PS5, which is extremely convenient because first-person shooters benefit the most from this control scheme, other than simulators.
The game goes on sales often, so you don't have to worry about spending too much on it. Which is great because you'll be playing this with your friends anyway – and that means multiple copies have to be bought.
7. Call of Duty: Vanguard
Call of Duty: Vanguard, like the previous games, supports native mouse and keyboard support.
Though it's not one of the most memorable Call of Duty games, it's still an enjoyable experience and had a lot of content added in. And its season passes were concurrently updated with Warzone – which is a great thing for players who like longevity in their games.
If you are fine spending more, getting Call of Duty: Modern Warfare 2 (reboot) is a better option. But if you find Vanguard at a great sale, then you still won't be disappointed.
8. Cities: Skylines
Though SimCity dominated the market for a long time, the most recent game in the series came out a decade ago, was received poorly, and is no longer updated.
Cities: Skylines, on the other hand, received another expansion just a few days ago this very year. It's a great city-building simulator that is currently one of the most relevant games in the genre and continues to grow in all the best ways.
If you like strategy and simulation-based games, then Cities: Skylines will be right up your alley. And the fact that it has keyboard and mouse support makes the experience so much better since controllers are not the best option for a top-down building game.
9. Splitgate
Splitgate is what you get if you combine Halo's satisfying sci-fi gameplay with the creativity of Portal.
It's a fast-paced first-person shooter in which you have the ability to create and travel through portals, which adds an extra level of intensity in terms of both offense and defense on the battlefield.
Though the game is no longer as big as it was when new, it still has an active player base on every platform and is maintained by its developers in terms of content and stability. And like most first-person shooter games, it benefits greatly from keyboard and mouse support.
Splitgate Guides to Help You:
10. The Elder Scrolls Online
The Elder Scrolls franchise has been a mainstay in the world of role-playing video games for as long as anyone can remember, and it was only a matter of time before the game had a spin-off meant for multiplayer gameplay.
Although not as iconic or memorable as Skyrim, it's a solid adventure game that has enough content to keep the players busy for hundreds of hours.
New Elder Scrolls Guides:
11. Fortnite
The battle royale phenomenon that refuses to die, Fortnite earned its spot thanks to unique gameplay that allows players to build forts in the middle of a battle for defensive purposes.
The game supports cross-play across all platforms, so it's completely fair to switch to the keyboard and mouse, which will help you stand better chances against players on PC and those on consoles alike.
Some Fortnite guides:
12. Assassin's Creed Valhalla
The latest game in the long-running Assassin's Creed Valhalla is great for two things. The first one is the fact that Valhalla is a great game filled with fun gameplay, beautiful graphics, a compelling storyline, and addicting side quests.
The second thing is that it supports a keyboard and mouse on consoles, so you can experience the game in a different way compared to how every previous installment had to be played with a gamepad if you're not on a PC.
13. Call of Duty: Warzone
Call of Duty: Warzone is a free-to-play spin-off of the iconic franchise that focuses exclusively on multiplayer and follows a battle royale structure.
Something that more and more gamers are realizing with time is that the keyboard and mouse are far more precise as a way to control your aim than a gamepad. So, it's only natural that one of the largest first-person shooter franchises added the support for this input method in all of their current-gen games on the PS5.
14. Warframe
Warframe is a game that you don't hear about when it comes to the lists of the 'largest online video games, but it's a game that has persistently survived for over a decade and continues to reinvent itself to be a part of every new generation that comes by.
It has unique gameplay that is a mix of third-person action and shooting and allows players to mess around in both linear and open-world environments based on their personal preferences.
NEW in Warframe:
15. Call of Duty: Black Ops Cold War
Call of Duty: Black Ops Cold War is the latest mainline entry in the long-running franchise and features both a full-fledged single-player campaign and online multiplayer that is true to the series' roots, unlike Warzone.
Since it's a first-person shooter, anyone who tries a mouse on the game immediately admits that gamepads were the wrong choice, and since the PS5 has official keyboard and mouse support, it's no longer cheating to use them on a console.
16. DayZ
Zombie games come and go every day, but DayZ has stood the test of time for multiple generations by this point.
The game originated as a mod in a computer game before it became such a success that it became a standalone game of its own, so it's only natural that the best way to play it is by using a keyboard and mouse.
The game may not be as polished as a zombie mode in a shooting game, but it's still wildly entertaining to survive harsh environments and cooperate with or betray other human players in DayZ.
18. Risk of Rain 2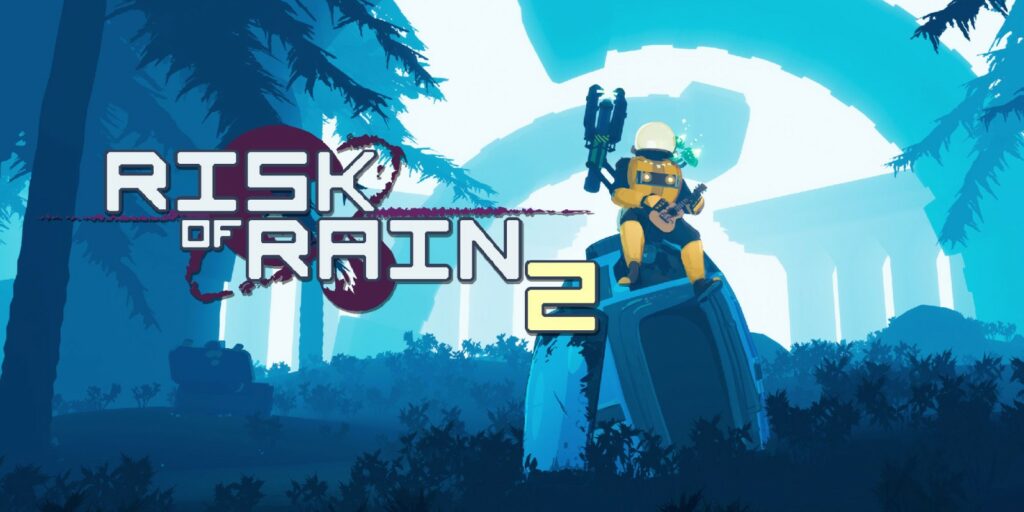 Risk of Rain 2 is an excellent roguelike game that features multiple characters, lots of levels, and an addicting gameplay loop filled with cycles, secrets, and lots of replayability.
Every character has their own strengths and weaknesses, so it's a lot of fun to mix things up and no two playthroughs feel similar to each other by the end.
Since the game is usually associated with the PC platform, it's no surprise that it features mouse and keyboard support.
19. Final Fantasy XIV
The Final Fantasy franchise is older than half the people alive on the planet right now, but the best thing about it is that most of the games are unrelated to each other and whether you have played the previous games or not – you can jump into any of them at any time.
Final Fantasy XIV separates itself further from the main series as it's an MMORPG and can be played by anyone who is into the genre.
20. War Thunder
War Thunder is a free-to-play game that focuses on vehicular combat, which means that players are able to face off against each other with the use of tanks, fighter jets, submarines, armored vehicles, and more. What makes the game even cooler is the fact that the vehicles are designed based on the early 20th-century era of war.
Since this game has a lot of flying, you can't truly experience flight simulation unless you have something like a keyboard and mouse – if not actual gear.
21. DC Universe Online
The DC Universe needs no introduction as it's a household name that every child, adult, and elder knows. With so many amazing characters and stories to tell, it's only natural that it can be turned into an MMO – and so it did.
DC Universe Online is filled with enough content to keep you busy for hundreds of hours, and it's free-to-play so anyone can jump in to see if it's their type of game.
22. Project CARS 2
Project CARS 2 is a content-rich racing game with 150 track layouts, 60 diverse locations, and 180 cars.
One of the best things about the game is that it has a technology called LiveTrack 3.0, through which the game changes things like track temperature, dynamic weather, and other random details which adds more life to the experience.
Though missing at launch, the game has received things like off-road driving, rallycross tracks, and more cars. So, it's easily one of the better car simulator games despite the genre being so oversaturated with options.
And with mouse and keyboard support, you can easily customize your experience to match your preferences.
23. Call Of Duty: Modern Warfare
Call of Duty: Modern Warfare is what many consider to be a return to form for the franchise as it dropped futuristic gimmicks and went back to rediscover what it means to deliver a compellingly entertaining single-player campaign.
The multiplayer is just as classy too and a lot of the classic maps that we know and love make a return as well. Best played with a keyboard and mouse, this is the ultimate Call of Duty experience.
24. The Sims 4
The Sims franchise on consoles has always had to have a different version built for the lower hardware as consoles couldn't keep up with what the PC versions had.
However, with the eighth generation of consoles, that gap was finally closed and The Sims 4, aside from a lack of mod support, is essentially the same game on consoles as it is on the PC.
And one thing that the PC version of The Sims always had better was keyboard and mouse support, which is also no longer different.
25. Minecraft (Bedrock)
Anyone who has played Minecraft on both the PC and console will always tell you how it's outrageous that console players are forced to limit their creativity to the controller. Fortunately, starting from PlayStation 4, Minecraft's Bedrock edition has started supporting keyboard and mouse, which also applies to the PlayStation 5 version.
Here are a few Minecraft guides:
26. Neverwinter
Neverwinter is a free-to-play MMORPG that follows the Dungeons & Dragons formula.
Filled with hundreds of hours' worth of content and everything a role-playing adventure game should have, it's one of the best MMORPGs you can play on consoles supporting the keyboard and mouse. Plus, the graphics are awesome.
Here are the best Neverwinter classes you can go for today.
More Neverwinter Guides:
27. Planet Coaster
Planet Coaster is a simulator that allows you to create and manage rides at a park that hundreds of people will ride on. It's a very creative game that lets you create rides in any way you want as long as they function, encouraging the players' imagination.
Originally a PC game, it also allows players to use a keyboard and mouse as input on the PlayStation 5.
28. They Are Billions
They Are Billions is a strategy game that is set in a post-apocalyptic world.
The player has to create and defend colonies against infected enemies that will try their best to destroy any living being. What makes the game even better is that it has a Steampunk theme, so its aesthetics are unique compared to everything else.
---
And that's the complete list of every game that currently supports a mouse and keyboard on the PlayStation 5 without the need of using any third-party device, software, or extensions.
It's completely fair to use a mouse and keyboard on the games listed here, and we will update this list with more compatible games as they come.
While you're here, check out some of our other helpful gaming guides too!