Are you looking for a list of the most recent co-op games on PS5 to play with friends and family? This list is for you.
As we gradually shift into gaming on Sony's new PS5 console and retire the PS4, the next-gen games and their features on the new hardware are just too good to pass on.
2022 is just around the corner, and we have compiled a list of our favorite PS5 co-op games, both old and new. Without further ado, the following are our co-op picks for you to enjoy on your PS5 console.
The Best Co-Op Ps4 & PS5 Games
Here's a list of our top picks for the best co-op gameplay experience on the PS5 right now.
1. Elden Ring
⚡ Gaming Deals too Good to Pass On ⚡
You can never go wrong with a FromSoft game no matter what console generation it is. Elden Ring is easily one of the best video games in the RPG genre and an excellent single-player experience. It features a massive world full of adventure and horror, and it is currently one of the most talked about games in 2022.
Fortunately, like other Souls games, you can team up with other players to take down mobs of powerful enemies and the threatening bosses that the Lands Between has to offer.
Not only does playing co-op in Elden Ring makes the game more fun, but it also allows you to drop and receive extra weapons that are otherwise difficult to obtain too. And when things get heated, you can fight each other as well instead of just sticking around as comrades.
Trending Elden Ring Guides On GamesBustop:
2. Destiny 2
Usually, PvP is the primary aspect in many online games and co-op is an optional activity that you can participate in if you're in the mood. Destiny 2 is the opposite because the primary focus of this game is cooperating with fellow guardians in order to keep The Light alive.
It's developed by none other than Bungie, who is famous for creating the first four Halo games that everyone knows and loves before the franchise took a nosedive. So, you can expect solid play, cool sci-fi elements, and creative level design right away.
There are dozens of missions that the player can complete for free, while new ones are added every once in a while which increases the value of the game. Then we have dungeons, raids, rare loot, and everything else that you'd expect from an MMO but instead in a solid co-op FPS experience.
Trending Destiny 2 Guides On GamesBustop:
3. Dead by Daylight
Dead by Daylight is an isometric horror game that allows up to 5 players to participate in a single match. Four of the players partake in a co-op system where they are survivors and have to help each other out in order to escape.
And the fifth player is a monster, whose job is to sabotage everything that the survivors do and prevent them from getting out alive.
Though 4 survivors and 1 monster may sound unbalanced, Dead by Daylight is a game that does a great job at giving both sides just the right number of tools to keep things fair. The cat-and-mouse chases are as intense as they are entertaining, and it's easily one of the most fun co-op games that you can enjoy right now.
Top Dead By Daylight Guides On GamesBustop:
4. Genshin Impact
Love it or hate it, Genshin Impact is a game that's here to stay.
Though it's a game that starts as a single-player experience, you can have fun with other players using the co-op capabilities as soon as you hit a certain level for your account. You can hang out with other players and fight difficult enemies and bosses together, which makes the experience way more fun than just playing it by yourself.
And one thing that sets Genshin Impact apart from basic co-op games is that your characters can form a great synergy with each other, which can lead to some interesting things. For example, you can use new combos with your friend by using abilities at the right time – which deals extra damage and looks cool at the same time.
And of course, Support characters can help the entire party and even other allies.
Since Genshin Impact is even getting an anime series soon, you can expect a bigger hike in its popularity as a game. So, this is as good a time as any to jump into it – especially since lots of codes for free Primogems are being given out regularly.
Genshin Impact Guides On GamesBustop:
5. Risk of Rain 2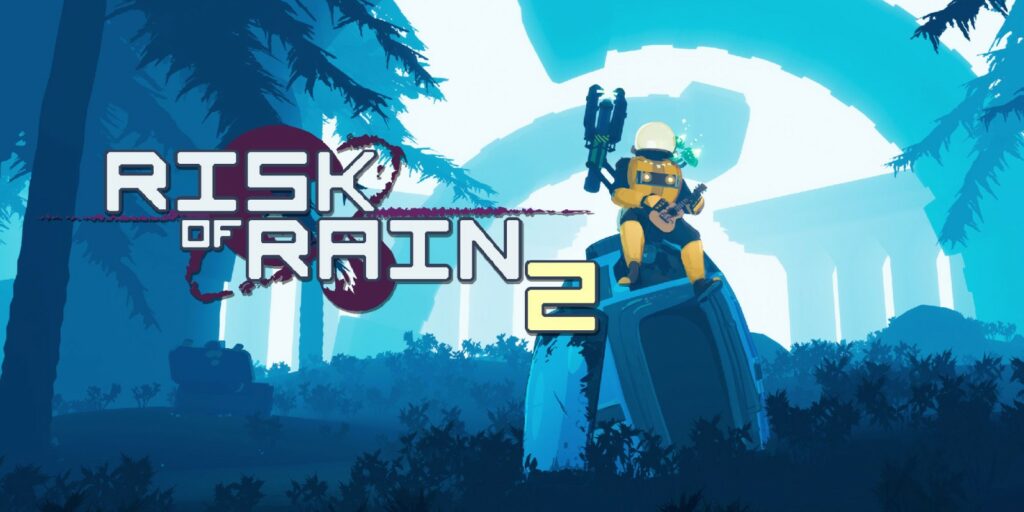 Risk of Rain 2 is one of the most celebrated roguelike games of recent times and found immense success over the years despite being from a niche genre.
The game features multiple characters to choose from that all have their own strengths and weaknesses. And the levels are designed in such a way that every specialty of your characters is properly rewarded and challenged, so no two playthroughs feel too similar to each other.
Since it's a roguelike, the cycle does reset after a certain point. But there are enough secrets and alternate paths to take that you won't get bored and the replayability of the game is amazing.
And of course, co-op is one of the best parts of the game and up to four players can get together to help each other survive through strategic decisions.
6. Divinity: Original Sin 2
Divinity: Original Sin 2 is one of the best RPG games that are more on the hardcore side and feature everything that you'd want. There are multiple classes to try, tons of gear to find and enhance, multiple characters that you can romance, and a large number of enemies to defeat in battle.
Though it's a very fulfilling experience by yourself, you can play Divinity: Original Sin 2 with a friend in co-op gameplay too.
And it doesn't matter how many times you beat this game, there's always something new to be done on the next playthrough that you missed before. Your choices do shape the world, so make sure to keep track of what you're up to. And do make sure to buy the Definitive Edition specifically.
7. Lego Star Wars: The Skywalker Saga
To avoid any confusion, let me clear up one thing right away: the co-op in this game is local. You can play it on the same console with someone next to you, but not online.
With that out of the way, let's talk about the game itself. Lego Star Wars: The Skywalker Saga is one of the best Star Wars games that we've had in recent times. It's easy to ignore it since it's a Lego game, but it's something that people of all ages can enjoy if they are Star Wars fans since it covers most of the movies and is filled with tons of easter eggs too.
You can easily play the game's co-op mode with a friend or even a kid since it's not a complicated game. But that's not to say that it's too easy or that it lacks substance since it is a very competently developed game full of action, humor, and lightsabers.
So, if you like Star Wars, you should give this game a try even if you don't like the Lego brand all that much. But if you neither like the Lego brand nor Star Wars – you should definitely skip this game.
8. Diablo 3
Being the third entry in its franchise, Diablo 3 proved to be a great success for Blizzard Entertainment by becoming the fastest-selling PC game within 24 hours of release and in no time selling 12 copies, earning itself the title of the 'best-selling PC game of 2012'.
A few reasons behind the game's impressive number of sales and positive reviews even to this day are giving users the ability to enjoy the game's action-based approach in crisp frames and introducing couch co-op on consoles for the first time.
Players can get entertained by this game's serpentine plot and gameplay on their PS5s together without having to sacrifice the comfort of their homes.
Defeating the Lord of Destruction who rises back to power 20 years after the occurrences of Diablo 2 is once again the task players must perform but this time, in order to cease a baleful prophecy revealed in ancient texts from coming into existence.
Another point I'd like to put forth about the game's plot is that players are not required to experience the older titles of the series to understand and grow fond of this installment despite it being new to them.
This is because the never-ending dark fantasy tropes in the game always keep bringing something fresh for players to get thrilled by, which makes it an amazing and easy-to-play PS5 game with one's friends even if they don't know much about the earlier entries in the Diablo franchise.
9. Godfall
Published by Gearbox Publishing and developed by Counterplay Games, Godfall is an action role-playing game that was released on PlayStation 5 along with Microsoft Windows in November 2020.
Its gameplay favors a high fantasy setting based upon five elements; Earth, Water, Air, Fire, and Spirit. Players are supposed to fulfill the task of preventing an extreme apocalyptic event by putting themselves in the shoes of one of the last Valorian Knights.
5 weapon classes (longsword, dual blades, polearm, two-handed war hammer, and the two-handed greatsword) are made available to players to select from and the Valorplates they get to equip afterward depend upon what they choose.
Supplementary augments can also be picked to add a hint of customization to the character class. Because of its loot shooter concept in which players have to complete missions and collect better loot for future quests, this game is classified as a 'loot slasher'.
With its ability to support up to three players in cooperative mode, I would say that all in all, Godfall is an excellent co-op game that you should definitely give a try on your brand new PS5.
It is a game that I would love to spend my 2022 playing and I believe fellow lovers of the fantasy genre would agree with me.
10. Dying Light 2: Stay Human
Techland's Dying Light 2 Stay Human is an action role-playing sequel to the 2015 game, Dying Light, and its release is expected in February 2022.
The co-op game is said to be Microsoft Windows, Nintendo Switch, PlayStation 4, PlayStation 5, and Xbox Series X/S compatible.
Many in the gaming community are impatient to experience the game's horror theme and see how well they like the new protagonist, Aiden Caldwell, who's equipped with special parkour skills.
Sliding, leaping off from edges, and wall running are some of the many actions players can perform to explore the city. Players can also take assistance from tools like grappling hooks and a paraglider to improve their transversal and on top of that, the undead can be used by Aiden to break his fall.
Melee weapons with limited lifespans that deteriorate the more they are used in combat are going to provide the majority of the action and fighting in the game. Through breaking down weapons for craft parts, different components are made available to players which they can later use to upgrade their weapons.
New zombies will make an entry in this game with the tendency of becoming more belligerent as the day sets. This is the kind of game that is the most enjoyable when played with friends and since it's available on PS5, it's one of my top picks for this article.
[FIX]
Dying Light 2 Frozen Screen Issues
11. Borderlands 3
This action role-playing first-person shooter video game allows players to engage in highly enjoyable quests and side missions either in single-player or multiplayer mode.
What serves as a big contributing factor in this follow-up proving to be even more successful than its 3 predecessors in the Borderline series is the clever approach used by 2K Games of releasing PlayStation 5, Xbox Series X, and Series S compatible versions, along with free upgrades for users on the prior console versions in 2020.
Before, this cross-platform game was only available on Microsoft Windows, PlayStation 4, and Xbox One.
The plot of the game revolves around an extremely interesting mission to stop the power of the alien vaults spreading across the galaxy from being exploited by twins Troy and Tyreen Calypso, whose ascendency is reinforced by their crazy cult followers.
Four new Vault Hunters are recruited by the Crimson Raiders of Pandora to carry out this job. Later selectable weapons and gear must be dropped by enemies upon getting killed and new abilities keep unlocking as a player gains more and more experience.
The reason why this game is one of my favorite PS5 multiplayer games is that it contains the option to play split-screen co-op and its humorous elements make it a great game to enjoy with friends.
12. It Takes Two
Developed by Hazelight Studios and published by Electronic Arts, It Takes Two along with PlayStation 5 is a PlayStation 4, Microsoft Windows, Xbox One, and Xbox Series X/S compatible action-adventure platform game released in March 2021.
This game is not playable in single-player mode and only supports split-screen cooperative multiplayer, therefore as its name suggests, can only be played between two players either locally or online.
Specks of different video game genres can be found in a large amount of game mechanics present in this game. The story and the theme of what level you're on decide these gameplay mechanics.
For example, there's one level in which May can clone herself, and her husband Cody can rewind time. Moreover, It Takes Two also features a large variety of mini-games.
The plot of the game in a nutshell is based on hand-made dolls created by Rose to repair her soon-to-divorce parents, Cody, and May's relationship through playacting. A tear lands on the dolls and results in the parents getting trapped inside the dolls' bodies.
Here, a new character, Doctor Hakim with the mission to reunite Cody and May, makes an entry. He constantly interferes with the parents' goal to reach their daughter in the interest of strengthening their communication with each other.
The reason why I've chosen this game to be a part of this list is that in order to make progress in it, players must co-operate with each other and collectively make use of different abilities provided to them.
I believe that the highly interactive aspects contained in the game make it just perfect to enjoy with a friend.
13. Fortnite
Fortnite is a battle royale where you are pitted against other players, but there can only be one winner. You can either play solo, squads, or duos. All these modes have one thing in common, and that is hours and hours of uninterrupted fun for you and your gang!
The split-screen feature on the PS5 allows two players to share the same screen so that you can play and strategize from the comfort of your couch.
Not only that, but if you have a compatible TV, you can now play Fortnite in glorious 4K at 60fps!
14. FIFA 22
Football is one of the biggest sports on the planet earth, and no game is better to play on a PS5 than FIFA 22.
The franchise has been around for decades at this point, and with every iteration, it only keeps getting better. You can either play online against others, in single-player story mode, in classic PvP battles, or even co-op with your friends!
Playing Co-op in FIFA requires a lot of skill, the player you play with has to be in sync with you if you want to win big. The game has a lot of different modes and teams to choose from; you won't get bored even for a second, especially if you love football, there are many tricks to be learned while playing.
15. Sackboy: A Big Adventure
Help Sackboy save the craft world from the evils that LOOM over their happy lives. It is one of the first platformers games to come on the PS5, and let me tell you this, it is one of the best at the moment.
The story's protagonist, Sackboy, is one of the most lovable characters on the PS5.
Not only that, you can actually invite your friends to play with you and complete the level, there is a co-op mode, and it is even more than the single-player mode. In the co-op mode, you actually have to cooperate to do some particular tasks; this only enhances the beauty of the co-op mode.
16. Haven
Tired of the same old shooting and fighting in video games? Want a change of pace? Then Haven is for you.
You and your buddy will be able to go on extensive adventures in this alien world, fight the predators after your life, craft stuff to survive, build a nest, and lead a peaceful life in this mesmerizing world of haven.
The story is beautiful, and the characters are sweet; you won't feel bored even for a second. Plus, the addition of tons and tons of different creatures on the planet only adds to the beauty of the game, you're always discovering some creature.
17. Overcooked: All you can eat
The promise of overcooked is as simple as it gets; you have to create a recipe that has been assigned to you. But wait, there's a lot more to it than what meets the eye.
The dishes won't be easy to make, plus there will, you know, some stuff going on while you cook.
There might be a rat in your kitchen, or a monster might barge in. How will you handle this situation? How will you and your co-op players handle this situation, there's only one way to know, and that is by playing Overcooked! All you can eat.
And with that, we'll conclude this list, here are some more games you can enjoy with others;