The Elder Scrolls V: Skyrim is a game well-known for its modding scene. There are countless Skyrim mods that cover a wide range of concepts from enhancing graphics to creating new cities to explore.
One of these mods has made it to Skyrim's Anniversary – the Fishing mod. Fishing is a new feature that lets you catch over 20 different aquatic species in various bodies of water across the game's world.
One of the fishes you can catch is Pearlfish, a gorgeous-looking fish that can be combined with other ingredients to create potions.
If you've activated the Caught in the Rain side quest from Swims-In-Deep-Water, the master angler of Riften Fishery, then you'll need to catch this specific fish. It's pretty easy to catch, so if you want to know where you can find Pearlfish in Skyrim, keep on reading!
Pearlfish Location in Skyrim
Pearlfish can be found in multiple locations on the map, but they're mainly found in these locations:
Eastmarch fishing spots
Riverwood streams
In the ocean northwest of Dawnstar
Or the ocean near Raven Rock in Solstheim
Northwest of Widow's Watch Ruins and northeast of Fort Hraggstad
Half-Moon Mill, between Falkreath and Whiterun.
The Eastmarch Fishing spots can be seen near Windhelm, which are marked on this map.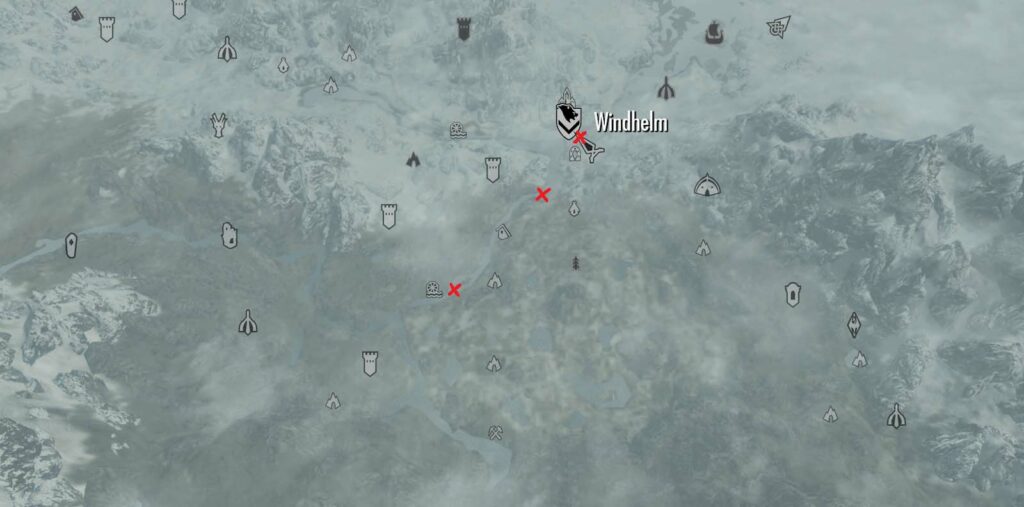 ⚡ Gaming Deals too Good to Pass On ⚡
The best place to find Pearlfish is the ocean located north of Widow's Watch Ruins and Fort Hraggstad.
Look for the rocky mountain with Nordic Barnacles on the wall and swim around the area, where Pearlfish are more likely to show up. They often come in groups of three, so they won't be that hard to distinguish.
How to Catch Pearlfish in Skyrim
According to Swims-In-Deep-Water's note, Pearlfish typically comes out when it rains. This can be hard as it doesn't always rain in Skyrim and there is no way to tell when it's about to rain.
Luckily, you can wear Swims' missing Lucky Fishing Hat, which has the ability to conjure thunderstorms as you're fishing.
To get the Lucky Fishing Hat, you'll need to bring a fishing rod with you. You'll also need to make sure to open the "List of Rainy Fish" to increase your chances of getting the item. Once you've done those, travel to the river coming out of Ivarstead near Sarethi Farm.
On the northern side of the island, you'll find some fishing supplies. There, you can cast your fishing rod and wait until you get the fishing hat. Most players get it on their first cast, so it doesn't take that long.
If you can't find the Lucky Fishing Hat for some reason, there's another option. You can equip the Ring of Kynareth, which will also trigger rainstorms when you're fishing in any body of water.
Unfortunately, this item can only be fished and has a 3% chance (8% with the Dwarven Fishing Rod) of being caught.
Whether you've decided to use the lucky fishing hat, the ring of Kynareth, or have decided to wait until it rains, you won't actually need a fishing rod to catch Pearlfish. If you encounter Pearlfish, you can just grab them with your bare hands.
What does Pearlfish do in Skyrim?
While you can eat Pearlfish, it doesn't really do much and it can't be cooked. Pearlfish is an ingredient used to make potions and can be mixed with 50 other ingredients.
It's mainly brewed for potions that increase stamina, frost resistance, or fortifying smithing and one-handed attacks.
Here is a list of the potions you can make with Pearlfish:
Restore Stamina
Resist Frost
Fortify Smithing
Fortify One-Handed
Bear Claws*
Bee
Charred Skeever Hide
Eye of Sabre Cat
Goldfish*
Hawk Beak*
Histcarp
Honeycomb
Large Antlers
Mudcrab Chitin
Netch Jelly DROrange Dartwing Pearl
Pine Thrush Egg
Powdered Mammoth Tusk
Purple Mountain Flower*
Pygmy Sunfish Sabre Cat Tooth*
Salmon Roe HF
Silverside Perch*
Small Pearl*
Torchbug Thorax
Wisp Wrappings
Frost Mirriam
Frost SaltsGoldfish*
Hawk Beak*
Moon Sugar
Purple Mountain Flower*
Silverside Perch*
Slaughterfish Scales
Small Pearl*
Snowberries
Thistle Branch
Blisterwort
Glowing Mushroom
Sabre Cat Tooth*
Spriggan Sap
Bear Claws*
Canis Root
Hanging Moss
Hawk Feathers
Rock Warbler Egg
Small Pearl*
Stone flower Petals
*Mulitple effects
Conclusion
That's all we can say about the Pearlfish in The Elder Scrolls V: Skyrim. It's one of the coolest fishes to catch in Skyrim's Fishing mod as it's both aquarium-worthy and can be used for brewing useful potions.
We hope you managed to find the Pearlfish using our guide as we know how frustrating it can be looking for fish and ending up with junk or salmon. Thankfully, there's an entire community dedicated to helping you find what you need.
All it takes is research, patience, and a little bit of luck, as you rarely get the fish on the first cast. While you're here, feel free to check out our other Elder Scrolls-related guides!