I often encourage Minecraft players to check out Stardew Valley when/if they ever find the time in their exhaustingly busy schedule.
While in theory, the two games may share a likeness that an initial eye may notice. There are certain things that you can do in Stardew Valley that you just can't in Minecraft. And I'm not just talking about the ability to romance/marry villagers, although who wouldn't marry the villagers in Minecraft if they could?
What I'm rambling about are the aspects in Stardew Valley which have been created with beautiful details, Such as trees!
The botany in this game is on point and Trees, just like fishing plays a crucial role in this game if you are unaware.
There's a variety of them present throughout the game and they all serve a unique purpose. The most common product obtained from them however is of course wood, which is primarily used for construction. There are also multiple uses for trees in Crafting.
In this article, I am going to discuss Fruit Trees that are distinguishable from trees that don't bear fruits. You definitely want to make use of this particular resource that the game can offer you.
Fruit Trees are very useful for animals, your farm, and also if you want to make money.
Fruit Trees In Stardew Valley
One of the things that are fun and a bit annoying when it comes to fruit trees is that they take a while to mature, 28 days to be precise. Once matured you can collect one fruit a day. But the good news is that you don't need to feed them water and they wither in the winter.
But that does not mean that your fruit trees are invincible, they can literally get struck by lightning, which of course renders them useless. Unfortunately, you can't do anything about it and as this is a random event, it may not even happen to you.
The quality of your fruit increases the longer you have it, and so does its value. It is possible to get silver, golden, and iridium fruits as the years go by. And if money is your goal, you should consider making wine or jelly with the fruit.
Make sure you have 3×3 land for planting. This land has to be in close proximity to a house or greenhouse. If you have the money the saplings can be bought from Pierre's General Store.
Factors Important for Fruit Trees in Stardew Valley
As you're well aware, the seasons in Stardew Valley determine a lot of things in the game. Likewise, every season plays an important role in acquiring the type of fruit you want.
Each season offers you the chance to harvest a different kind of fruit.
Fruits you can obtain depending on the season
Summer:
Banana Tree: Banana Saplings and Banana (Price: 150g to 300g, Health and Energy Regeneration).
⚡ Gaming Deals too Good to Pass On ⚡
Mango Tree: Mango Sapling and Mango (Price: 130g to 260g, Gift for Leo).
Orange Tree: Orange Saplings and Orange (Price: 100g to 200g. Gift)
Peach Tree: Peach Saplings and Peach (Price:140g to 280g, Gift for Robin)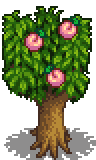 Spring:
Apricot Tree: Apricot Saplings and Apricot (Price:50g to 100g)
Cherry Tree: Cherry Sapling and Cherry (Price:80g to 160g)
Fall:
Apple Tree: Apple Saplings and Apple (Price:100g, Iridium Price:200g)
Pomegranate Tree: Pomegranate Saplings and Pomegranate (Price: 140g to 280g, Gift for Elliot)
Another thing that you may need to know is that you can plant all of these in the Greenhouse. Just make sure you have a good layout in the Greenhouse.
And keep in mind that a Fruit Tree sapling cannot be planted next to a common tree or common tree sapling.
More Stardew Valley Guides: