Sea of Thieves can be best described as a sleeper-hit as there was little enthusiasm for its release when it was just announced, but it quickly became popular once gamers got their hands on it.
The game offered a true pirate experience in which players can travel the seas with complete freedom and partake in activities such as treasure hunts, fighting pirates, and taking down mythical beasts that you'll never expect to encounter – which helped it become a favorite for many.
With each year the game's player-base grows larger and it's one of the most successful online games in 2021 despite the fact it's only on PC and Xbox. One of the most important aspects of the game is to look for treasure and then sell it off for money in order to buy cool things or just be a rich pirate.
And one of the best things to look for in Sea of Thieves is the ritual skulls, which both have immediate selling value and a bigger purpose if you've got the patience for it.
It can take a while figuring out how to get the ritual skulls and even longer to figure out what's the best way to use them. Fortunately, we've created a thorough guide that will explain to you how you can find and use the ritual skulls in Sea of Thieves, so let's get your journey started right away!
How to Get Ritual Skulls in Sea of Thieves
There are three different methods by which you can get the ritual skulls in Sea of Thieves, and we'll talk about all three.
1. Skull Stash Voyages
The Skull Stash Voyages are the most straightforward way of getting Ritual Skulls as they don't require you to spend time traveling or fighting – and nothing is left up to chance.
You can buy this voyage from the Duke or Stitcher Jim and it will cost you 30 doubloons. Sure, that's quite an expensive item in retrospect but it's more than worth it to avoid the effort since the game is already slow-paced in general.
But this voyage takes you straight to the point where you can find a buried Ritual Skull without anything left up to chance. This is the only method that guarantees you the item, whereas everything else has a randomly generated chance that might not end in your favor.
2. Skeleton Ships
⚡ Gaming Deals too Good to Pass On ⚡
This is by far the most difficult and risky method to get Ritual Skulls as it requires you to fight and defeat a Skeleton Ship, sinking it and then collecting the loot found inside.
It's not something that you can do by yourself, so you'd need to get some fellow pirates to help you out. But even then, there's just a chance that you might find a Ritual Skull because it's not a guaranteed part of the loot and you might end up with something different.
How you find a Skeleton Ship is up to you, as they can be encountered randomly on different parts of the sea, stalk you on certain quests, and get pointed at by clouds that are shaped like a ship which means that there's a Skeleton Ship in the area.
3. Ashen Chests
Ashen Chests are a unique type of chest that is like an upgraded version of the Collector's Chest with a slightly different design which makes it distinctive. Similar to the second option, there can be many things that you can find inside these chests and one of them happens to be the Ritual Skulls.
And just like the second option, it requires effort to be put in despite the fact that there's no guarantee of what you'll get. What you need to get is to kill an Ashen Guardian skeleton captain, which then gives you orders which will take you to an island.
And an Ashen Key is gained through Ashen Key Masters – which is another step that you will have to go through. Eventually, while this method is not as particularly difficult as the Skeleton Ship one, it's rather long and spread out.
Essentially, it might be the least useful method to use at the end of the day but if this seems the best idea to you, then you should go for it.
How to Use the Ritual Skulls in Sea of Thieves
If you've reached this part of the guide, then you've already gained the Ritual Skulls using one of the three specified methods of obtaining the rare item. Similar to how you obtain the item through several ways, using them has multiple methods too and we'll talk about all of them so that you can do what you like most.
1. Selling to NPCs
The first and easiest thing to do is to sell them off to one of the in-game merchants in Sea of Thieves. You can tell them to Larinna who can be found in the front of every Tavern and The Servant of the Flame at The Reaper's Hideout.
Selling it to Larinna will give you Bilge Rat Doubloons, while selling it to The Servant of the Flame will give you Doubloons, Reaper's Bones Reputation, and Emissary Value.
The rewards are a bit mixed up between certain factors, such as the Emissary Grade that you have and the value too. And the Emissary Value applies if you're sailing as a Reaper's Bone Emissary, while the other two things count anyway.
It's a bit complicated to read but easier to understand when you see for yourself in the game.
2. The Fort of the Damned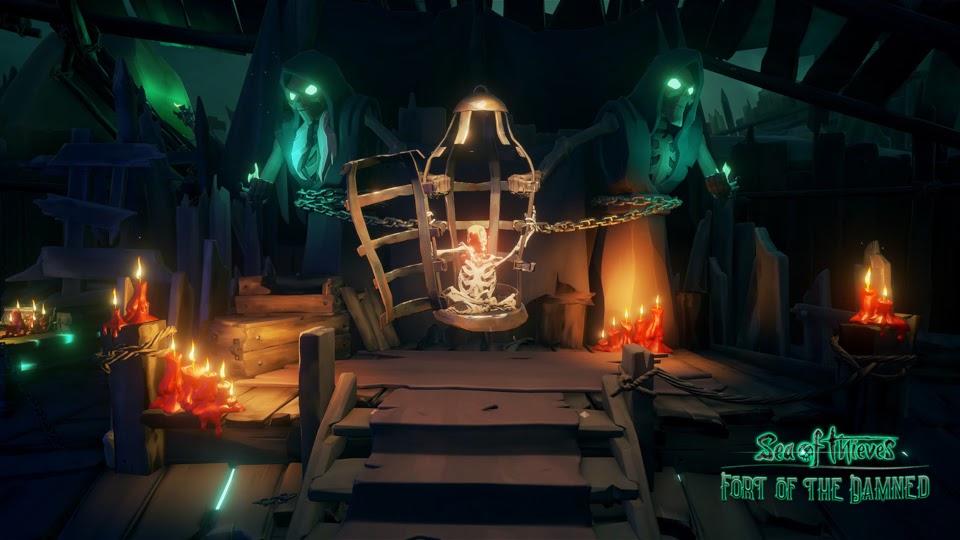 This is the better way to make use of the Ritual Skulls in Sea of Thieves but it's also far more complicated. First of all, you will need to capture the Flames of Fate, which are split into a total of 7 and have to be obtained in different ways.
Here's how to obtain them, which is basically to die to various causes:
The Flame of Treacherous Weather (White) – Die to Lightning
The Flame of Burning Hearts (Red) – Die to fire, lava, or volcanic rocks
The Flame of the Viper (Purple) – Die to poison
The Flame of Lost Seafarers (Blue) – Die to a shark or megalodon
The Flame of Cursed Bone (Green) – die to a skeleton
The Flame of Embattled Souls (Pink) – die to players who are a part of another crew.
Once you die from any of these methods, you can collect them from the Ferry of the Damned which is the ghost ship you find yourself in before you respawn.
After you get all of these flames, what you have to do from here is to go to L14 on the map and you'll come across the Fort of the Damned. You will find six statues that represent each of the deaths that you went through and you will have to light all of them with a torch.
Once you go farther to the center of the island, all you have to do is to place the Ritual Skull on the headless skeleton inside a cage and you can enter the Fort of the Damned at last.
This triggers an event and you will be leaving with lots of money and treasure by the end of it all – which is a great pay-off to a long and complicated journey.
That's it for our guide on how to find and use the Ritual Skulls in Sea of Thieves. We hope you're already on your way to trying out some of these methods, and we're here to answer any questions that you might have.
While you're at it, don't forget to check out some of our other helpful gaming guides too!