Cookie Run: Kingdom is a fun mobile game that makes you crave a lot of food. Each character is inspired by a real-life ingredient that could either be tasty or weird in a cookie.
One that would be the latter is mala sauce, a famous spicy dish in China. This dish is what created the Mala Tribe and its chieftain – Mala Sauce Cookie. They're surely not to be messed with, not without going through their protective leader!
You can also add Mala Sauce Cookie to the frontline of your team and she will play as a Charge cookie. Charge cookies are only positioned at the front and are tasked with dealing with damage.
Putting someone on the frontline will also make them vulnerable to attacks, which is why you need to carefully create a build that will help them last longer in battle. Before we talk about the best toppings for Mala Sauce Cookie, let's talk about her history.
Who is The Mala Sauce Cookie?
As we mentioned before, Mala Sauce Cookie is the chief of the Mala Tribe and lives in Dragon Valley, a place where only the spiciest of cookies can live.
This makes her an important character in the Super Mayhem event story. Like every Charge cookie, Mala Sauce wields a weapon of her own – the Morning Star Anise. She's a cookie with a dark brown and slightly red batter with pigtails and wears a maroon vest, ragged pants, and black bracelets tied around her wrists.
⚡ Gaming Deals too Good to Pass On ⚡
This character was released during the Interdimensional Super Mayhem update along with Twizzly Gummy Cookie but unfortunately didn't get a positive reaction from players of Cookie Run.
Her damage stats are far lower than what one would anticipate from a high-ranking Cookie of the Charge class. The Cookie Run: Kingdom community views her maximum health as a saving grace, and she may be found in certain CRIT-based compositions.
Despite being a Charge Cookie, she behaves like a "tank," a position often filled by Defense class Cookies.
How to Get Mala Sauce Cookie
If you've missed the Interdimensional Super Mayhem event but still want to add Mala Sauce Cookie to your collection, don't worry. You can still unlock her using the normal gacha or by getting her soulstones. The rarer a cookie is, the higher the chances of getting them are.
Mala Sauce Cookie is an Epic cookie, which means that the chances of getting her through the gacha aren't very low. If you prefer getting her soulstones, here's what you'll need to do:
All cookies in Cookie Run: Kingdom are made by collecting 20 of their Soulstones, most of which can be bought at the Arena Medal Shop, Mileage Shop, the Seaside Market, and the Rainbow Shell Gallery. However, they're not going to be available every day and can't be bought all at once.
If you're going to get a cookie from the Mileage Shop, then you're going to need Mileage Points. They can be acquired by drawing a cookie or treasure at any gacha. You'll need 100 Mileage Points to buy an Epic Soulstone, so you could get at least a couple here.
Next, you can go to the Arena Medal Shop to buy Epic Soulstones, which costs 400 Victory Medals. Getting medals is easy if your team is strong enough because all you'll need to do is win arena matches.
Lastly, buying an Epic Soulstone at the Rainbow Shell Gallery costs 800 Rainbow Pearls. You can trade valuable goods at Touc's Trade Harbor to get Rainbow Pearls.
Mala Sauce Cookie Skill Stats
Mala Sauce Cookie has a unique ability called the Spicy Mala Strike. When activated, she swings her mace toward the ground and deals AoE damage. Aside from that, spicy Mala Sauce will overflow from the ruptured ground and add the Burn debuff to opponents, also dealing periodic damage.
This skill also increases the CRIT% of two teammates with the highest CRIT% stat.
| | |
| --- | --- |
| Skill Stat | Value |
| Base cooldown time | 15 seconds |
| CRIT% | +25% for 8 seconds |
| Mace DMG | 9.0% (+0.1-0.2% DMG per level) |
| Lava Burst DMG | 15.7% (+0.2-0.3% DMG per level) |
| Burn | 27.6% DMG every 0.5 sec for 6 sec (+0.3-0.4% DMG per level) |
Mala Sauce Cookie Best Toppings
Now that we've given you a background on Mala Sauce Cookie, it's time we talk about her builds. Every cookie in Cookie Run: Kingdom only gets five slots for toppings. So if you add toppings that don't work for a cookie, it'll either be rendered useless or die quickly in battle.
Mala Sauce Cookie is essentially a support cookie and is not the main DPS, which makes it hard for her allies to make up for her weaknesses. These are the toppings we found that work best on Mala Sauce Cookie: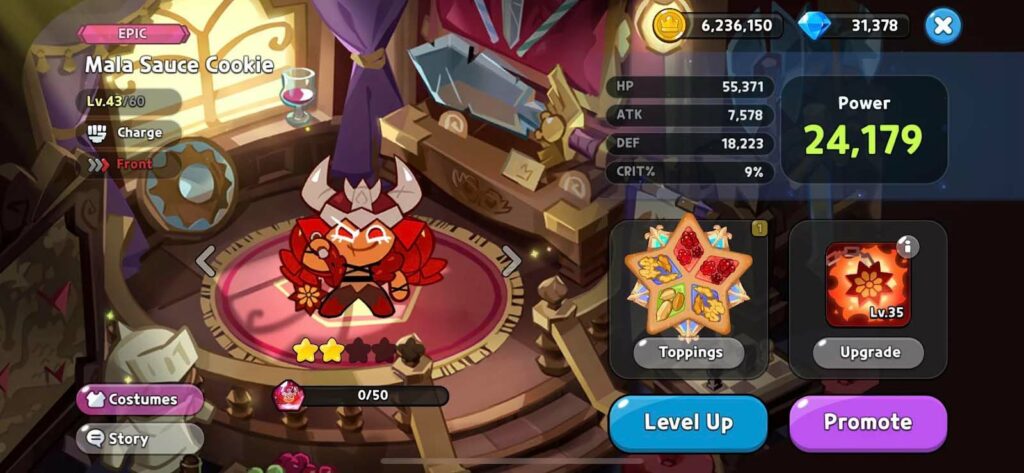 1. Solid Almond
Because Mala Sauce Cookie is a frontline cookie with a support ability, you'll need to stack up on Solid Almond toppings to increase her DMG Resist. The higher the topping's tier is, the better. If you want to make Mala Sauce Cookie your tank, then make sure to equip her with five Solid Almonds.
2. Swift Chocolate
Swift Chocolate toppings are important if you want to make the best out of a cookie's skill. You get a 1.8% decrease in cooldown time with a higher-tier Swift Chocolate topping and 5% more if you go for a full-on Swift Chocolate build.
3. Searing Raspberry 
Each high-tier Searing Raspberry will increase your ATK by 3%, and if you equip five of them, your ATK will increase by an additional 5%. That means if you go for a full-on Searing Raspberry build, Mala Sauce Cookie's ATK will increase by 20%, which is a lot of damage.
Conclusion
Alright, that's a wrap for this Mala Sauce Cookie Guide. We hope this helped you choose toppings for this character.
In the end, it's up to you to decide which build to use based on what you need at the moment. She may not be a good investment for experienced players, but she's pretty helpful if you're starting out in Cookie Run: Kingdom.
In the meantime, you can check out the rest of our Cookie Run-related guides!