Cor Lapis in Genshin Impact is a crystal (Geo Element) that grows with other minerals; therefore, it is called Cor Petrae. It lies in the Specialty category, and players can discover it under Cliffs found in Liyue.
Furthermore, the crystal's respawn time set by the developer is three days. Besides that, you must add Geo or Claymore characters to obtain Core Lapis.
It would help if you first destroyed it using a geo attack to get this crystal. If you aren't interested in finding Cor Lapis by exploring the world, you have a choice to purchase it at 1500 Mora.
Before starting the guide, you should know that the items given below will require Cor Lapis:
Dustproof Potion
Geo Treasure Compass
Yellow Dye
Unmoving Essential Oil
Geoculus Resonance Stone.
NEW: The Best Genshin Impact Backpacks
⚡ Gaming Deals too Good to Pass On ⚡
Cor Lapis Location In Genshin Impact
Although Cor Lapis isn't a rare resource found in Genshin Impact, it is the second most populated item found across the world of Teyvat.
If you are searching for ways to farm Cor Lopis, you should be in Liyue, where you will discover the western coast of Luhua Pool full of Cor Lopis to harvest.
Before embarking on a farming adventure, Cor Lapis, ensure you have Claymore character in your party. Usually, the crystal requires three hits to be torn into pieces.
The two most prominent locations in Liyue are the following:
Use for Character Ascension
Furthermore, you can discover them in mines, caves, terrains near mountains, and many other locations.
We already have mentioned the crafting recipe that requires Cor Lapis. Besides, you can also use the crystal for the character ascension, and the particular heroes are given below:
Three Characters can help you find Cor Lapis
Three different characters might be helpful when it comes to finding Cor Lapis, and their names are given below:
When it comes to finding the crystals, you should know Teyvat is a place where it is available in a huge quantity because several locations have been found holding Cor Lapis.
Mount Area
If you ask for only one location to collect more than 10 Cor Lapis, then we suggest you explore Mount Hulao as there are up to 18 pieces of Cor Lapis available to pick up.
Besides, you can collect crystals by merely running along with the flatter areas near the Cuijue Slope.
Qingxu Pool and Lingju Pass
The mentioned areas hold almost 20 to 24 Cor Lapis; therefore, you should teleport to the highest locations, use the Qingxu Pol Waypoint, and then head to the other locations on the north side.
You can go through the following waypoints, including:
South Lisha
Lisha
Lingju Pass
Statue of the Seven.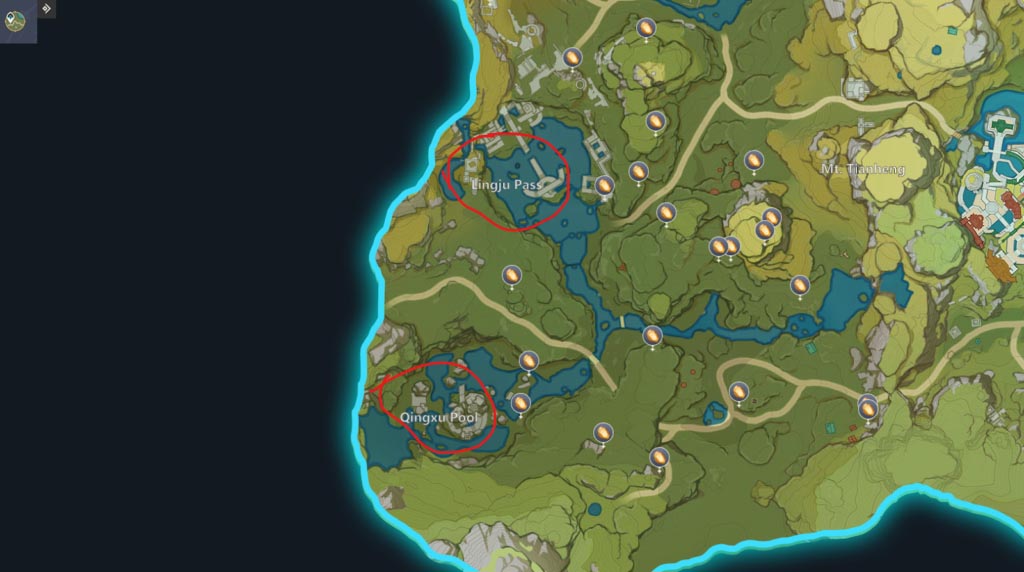 Other Locations to find Cor Lapis
Apart from the mentioned areas, you can get Cor Lapis from the "Guyun Stone Forest Waypoint" making your way to the island.
Besides, your next location to get 15 Cor Lapis is going through the Wuwang Hill Waypoint, the central location.
Tips for finding Cor Lapis in Liyue
You can check the official map released by the developer to find out all locations where finding Cor Lapis is possible; however, before embarking on a mission, keep a few things in mind as follows:
Using Qiqi's tracking skills may display your other specialties; therefore, Qiqi is considered a bit less effective than it comes as a guide. 
If you have Zhongli in your party, then using his elemental skill may quickly help you farm all minable rocks. 
More on Genshin Impact: