FromSoftware's Elden Ring offers a lot of options for character customization – an essential feature in any roleplaying game.
Not every character in the game looks the same, you have players that have gone as far as imitating Yennefer from the Witcher series or Kanye West.
However, most of your outfits will depend on the build and class you're going for, especially if you care about stats. The Lands Between is home to a diverse set of classes, there are Astrologers, Prisoners, Samurais, Prophets, and plenty other more. 
Today, we'll be talking about an armor piece from the Bandit class. To simply put it, Bandits are players who specialize in stealth. Choosing this class grants you high Dexterity and Arcane at the start of the game.
You'll also be given a dagger and a bow and arrow as starting weapons to help you get past enemies and level up. If you want to be extra stealthy, then you'll need a good disguise to keep your identity safe.
⚡ Gaming Deals too Good to Pass On ⚡
If you've chosen the Bandit class, chances are you already have the Bandit Mask. It's a reasonably lightweight helmet from the Bandit Set that keeps the player's head protected and concealed. Masks are the go-to accessory for anyone who wants to look a little bit mysterious.
For those who don't have the Bandit Mask, you don't have to worry because this item can also be purchased at a certain location. If you want to know where you can snag this mask, this guide tells you everything you need to know about the Bandit Mask.
Unleash your inner assassin with the Bandit Mask by reading this Elden Ring guide!
Bandit Mask Stats & Characteristics
| | |
| --- | --- |
| Damage Negation | Value |
| Physical | 2.8 |
| VS Strike | 3.1 |
| VS Slash | 3.1 |
| VS Pierce | 3.1 |
| Magic | 3.1 |
| Fire | 3.4 |
| Lightning | 3.6 |
| Holy | 3.1 |
| Weight | 3 |
Based on the item's description, the Bandit Mask gives the player some sort of resistance from poison damage. Realistically speaking, it's pretty much just a dirty rag.
The Bandit Mask only comes in the color black and wraps around the character's neck as well and will blend in perfectly with black hoods. It can be worn by both male and female characters. In comparison to other masks in Elden Ring, this is by far the least scary looking.
| | |
| --- | --- |
| Resistance | Value |
| Immunity | 30 |
| Robustness | 14 |
| Focus | 14 |
| Vitality | 16 |
| Poise | 0 |
Bandit Mask Location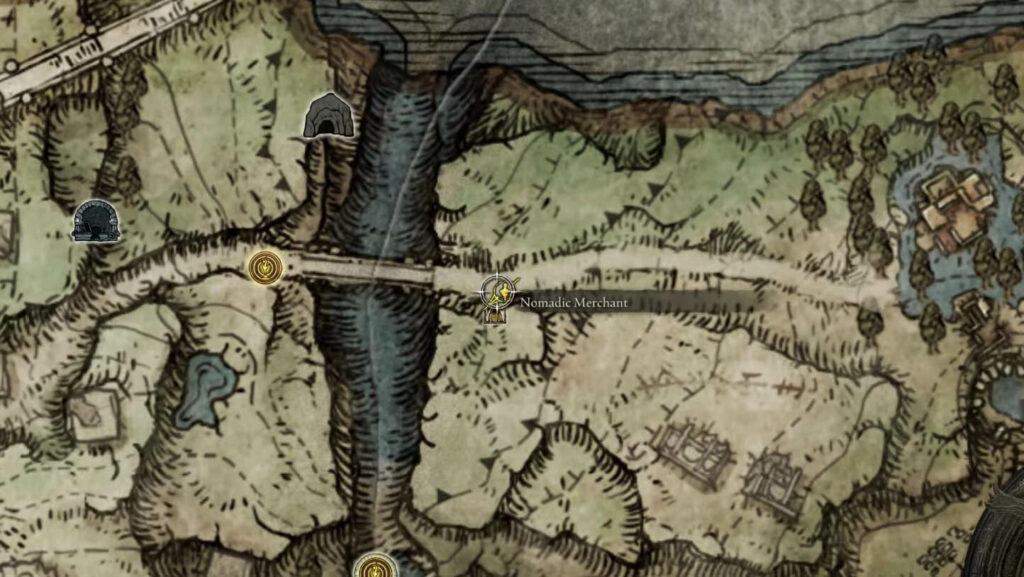 The Bandit Mask can be purchased from the Nomadic Merchant in Limgrave, specifically the northern area. All players can access this region as it is the starting area of Elden Ring, so it shouldn't be that hard to find.
The merchant that sells the Bandit Mask can be found camping on the other side of Saintsbridge, a bridge that connects Stormhill and East Limgrave.
Once you hear a somber melody playing on the violin, that's when you know you're close to the Nomadic Merchant! If you talk to him, you'll be able to purchase the Bandit Mask for 1,500 Runes.
However, if you're unsatisfied and want to sell the Bandit Mask, its value will go down to 100 Runes. So, choose wisely!
Alternative Location: If you somehow killed this innocent merchant, you can still buy the mask in a different area. Killing the merchant will automatically give you the Nomadic Merchant's Bell Bearing, which can be offered to Twin Maiden Husks at Roundtable Hold in exchange for the Bandit Mask.
Now that we finally have the mask, it's time to talk about what to wear it with.
Bandit Mask Best Builds
Let's be honest, the Bandit Set is probably one of the most basic-looking sets in the game. In addition to that, it doesn't offer much protection against damage.
That being said, the Bandit Mask is definitely worth keeping for the aesthetic. The Bandit Mask goes with almost anything especially if you want to show off your character's hair, so feel free to be as creative as you want with the accessory.
Remember, stealth doesn't mean you have to look boring.
If you want to know which builds are good with the Bandit Mask, here are some of them:
Stealth Assassin Build
Blood Knife Assassin Build
Cold-Blooded Raptor Build
Arcane Build
Dual Dagger Build.
Conclusion
That's a wrap for everything we know about the Bandit Mask in Elden Ring!
Did you know that there are over 550 armor pieces you can find in the game? It's not much compared to Dark Souls, which has approximately 106 armor sets.
Still, this means that you can constantly mix and match items and never get bored of your fit.
We hope that this guide has helped you decide which armor looks good on your character. If you want to read more guides on Elden Ring and other similar games, check out the rest of our guides here!