Whether you play games competitively or simply for fun, it's always important to know that the game is running properly. If you are receiving a consistent frame rate of 60 and above, there's usually nothing to worry about.
But often whether it's your own hardware that requires more tweaking or the game being poorly optimized, your frame rate can drop below that which is a massive problem because it makes the experience less fluid.
And if you play competitively, then having high frame rates that match up with the refresh rate of your monitor is very important too.
The first step is, of course, to have an FPS counter to see how many frame rates you're getting in Apex Legends as you're playing it. If it's fine, then you just enjoy your gameplay and worry about nothing else. But if it has issues, you will need to try a few tweaks to ensure that you receive the right gameplay speed that your eyes deserve.
So, we're going to show you how to enable an FPS counter in Apex Legends with easy steps so that you can make sure you're playing the game at its peak performance. Not only that, we'll also offer a few suggestions to improve your frame rates in case they're lower than they should be. So, let's get started!
How to Show FPS Counter in Apex Legends
Having an FPS counter pop up on your game essentially shows you how well the game is running on your computer. While variable frame rates past 60 are a normal thing, you begin feeling differences in performance in anything below – which is an easy way of measuring whether you need to improve your performance or not.
Step 1 – Log into the Origin Launcher
⚡ Gaming Deals too Good to Pass On ⚡
Pretty self-explanatory, just log into the Origin Launcher since Apex Legends is tied to it on the PC platform. You can, of course, skip this step if you're already logged in. In which case, simply launch the launcher.
Step 2 – Navigate to the 'Origin' button on top and select 'Application Settings'
Again, a self-explanatory step, simply click the 'Origin' button on the top left corner of your launcher and then select 'Application Settings' which is the first option from the branch that comes out of it.
Step 3 – Navigate to the 'Origin In-Game" tab and select it
The next thing to do here is to head over to the Origin In-Game section which brings you to many options, including the FPS counter that you're looking for.
Step 4 – Enable the FPS Counter
First, you'll need to move your mouse to the 'During Gameplay' section of the In-Game settings. On the right side of the 'Display FPS Counter' section, click on the 'Don't Display' option.
Once you have clicked, it opens a pop-up that displays four new options. These are basically directions as to where the FPS counter will show up in-game, so choose wisely based on whatever place you want it to be on. It usually doesn't matter, but it can be distracting for some people in the wrong spot. So, the default choice for gamers is usually top left or top right.
Once this is all done and dusted, congratulations – you have successfully enabled the FPS counter in Apex Legends and will be able to see how good or bad your frame rates are.
How to Tweak Apex Legends FPS
This section entirely depends on how good your computer machine is, because Apex Legends is a pretty well-optimized game so there are no fixes to try. But there are a few settings you might be doing wrong, so here's a few suggestions from us.
1. Lower your graphics settings
Pretty simple and straight to the point – try setting everything in the game a bit lower than what you have if your frame rates are low. For example, if you're on high, try medium. If you're on medium, then try low. This might solve your performance problems.
2. Change your Display Resolution
First of all, sometimes your display resolution is higher than what you truly need. For example, if you have a 720p screen, then you might not need the full HD 1080p and lowering it might help. But even if you have a full HD display, you might want to lower it down to a 720p resolution anyway because doing that still boosts your frame rate sometimes.
Of course, 720p and 1080p are not the only resolutions, and laptops tend to have slightly different variants to them too based on the unique screen dimensions. So, just try a couple of those options and see how it works out for you – and don't worry about selecting the wrong one as not doing anything for a few seconds will automatically turn it all back.
3. Update your Graphics Driver
Just because everything is running okay doesn't mean that it's the best performance you can have. GPU drivers have several fixes and improvements that can make all the difference in your overall FPS performance, so always make sure that you're up-to-date at all times and aren't missing out on any quality-of-life improvements.
Sometimes the updates even directly mention if a certain game is improved on the change log and sometimes Apex Legends pops up too. Being an older game does not matter in terms of multiplayer video games, since they are constantly updated with new features and graphical improvements.
4. Adaptive Resolution FPS Target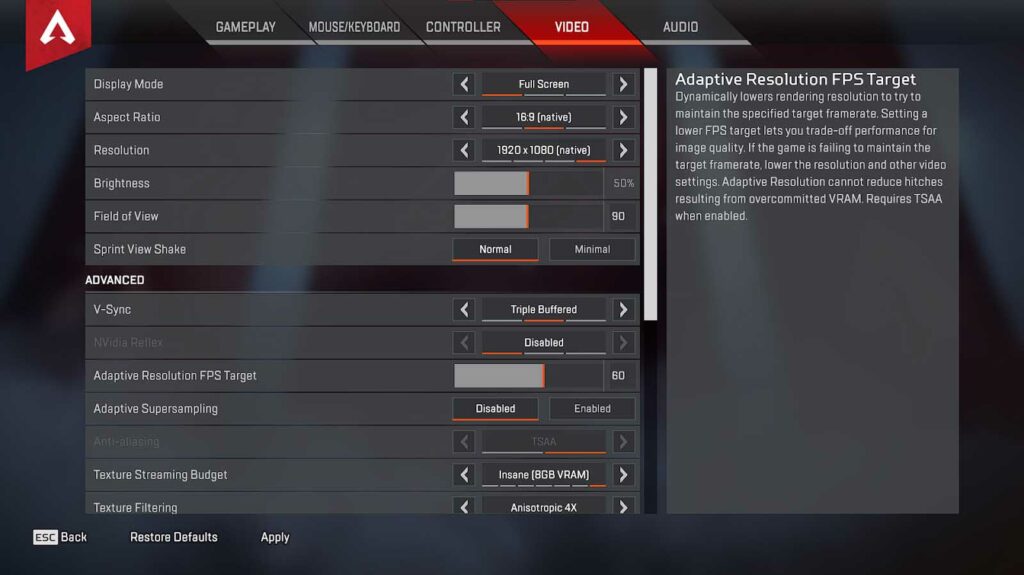 Increase your Adaptive Resolution FPS Target in case it's on low. It has no difference in performance but it's a limit that can lead to more FPS once you increase it. It might not do anything for you, or it might make the FPS better for you.
And in case it doesn't do anything, maybe it will be better to just slide it back to its original state.
5. Close every process besides the game itself
Unless you have a sufficient amount of Ram in your computer, running the game and other programs such as a browser or a video editor might be causing your game to lag a bit. Try turning them off and launching the game again, this might solve your FPS crisis without the need of having to tweak anything else.
6. Upgrade your PC hardware
If absolutely nothing from this list helps you out, then the only way you can have better frame rates is to have a better gaming rig in general. If you have a PC, upgrading it can often feel like a daunting task to do if you're not familiar with how things work. But with enough YouTube videos watched, you'll know just what to do.
Not to mention that many shops assist and install things for the customer too, so you can always go for that if you don't have the time to do it manually.
And that's it for our guide on showing the FPS counter in Apex Legends and also tweaking them. We hope that this helped you and we're here to answer any questions that you might have too. And while you're here, make sure to check out some of our other helpful gaming guides too!