Laptops and desktops are both computers, but the key difference between them is that the former cannot be casually upgraded. Thus, when you're buying a gaming laptop, it's important to make sure you're getting the right brand, specifications, and price because you won't get the chance to make any changes later on.
ASUS is a main-stay brand that every PC gamer is aware of and their fairly recent ROG Strix G15 line of gaming laptops is meant for those who are looking for stable full HD gaming at a reasonable price. There are many variants available in the market, but those with significantly stronger graphics cards are unsurprisingly on the pricier side.
What's considered the sweet spot for the ASUS ROG Strix G15 laptop is the variant with an NVIDIA RTX 3050 Ti, as the entry-level dedicated GPU has just enough power to play the most recent games while maintaining a good price-to-feature ratio.
⚡ Gaming Deals too Good to Pass On ⚡
At the end of the day, however, a laptop is only as good as its manufacturing. If you put all the specifications together on a poor board or without the right body – then it's not going to be a sustainable machine.
So, how well does ASUS ROG Strix G15 work as a gaming laptop? Can you trust it to run all the latest games for the next couple of years? Let's dig in and review this RTX 3050 Ti-powered gaming machine.
Specifications (4.1/5)
Let's start with the first thing that we look at when buying a computer – the specifications.
The ASUS ROG Strix G15 comes with a powerful AMD Ryzen 7-4800H (clocked at 2.90 GHz), which is one of the best AMD processors that you can get your hands on right now. If you're unaware of how AMD works, you can compare this processor to the Intel Core i7.
Then, we have an Nvidia RTX 3050 Ti graphics card with 4GB VRAM, which is a part of one of the best generations of GPUs that can be purchased in recent times. Sure, you can go higher and get a 3070 or 3080 – but laptops inflate in price if you try to be too high-end.
Then we have the memory, which is 32GB DDR4 SDRAM and a 2TB PCIe SSD that not only offers a gracious amount of space but runs pretty fast too. All of this is then topped off with Windows 11 compatibility, a 32GB USB Card, all the important ports you'd want, and a 720p HD camera. And lastly, it has a 3-Cell 80Wh Battery that is pretty standard for the price range and features.
These specifications are, without a doubt, a great combination of hardware. Especially for the task of gaming, as none of these options bottleneck each other, and having a whopping amount of 32GB RAM combined with an SSD is just exactly what modern-day gaming needs.
Of course, this is just the specifications side of things so we're not commenting on the performance yet – so we'll get to that shortly below. But it's certainly an impressive gaming laptop on paper when you look at the reasonable $1,599 price.
Display (4.5/5)
Sure, everything inside the laptop is good. But it's not worth having a powerful rig when what your eyes see is compromised.
Fortunately, ASUS ROG Strix G15 comes with an excellent 15.6" FHD display that natively supports a crystal clear 1080p resolution. Not only does this screen come from a good brand, but it also has an IPS panel that provides great colors and clarity.
Whether I was in darker areas in a video game or when colorful light illuminated the world – everything looked beautiful on the display and proved itself to be a great choice.
Last but not least, this display has a 300Hz refresh rate. This is, of course, mainly helpful for hardcore gamers who want to see their enemies as soon as they become a pixel on their screen.
And then, they can shoot them down in an unparalleled time of muscle response which is very helpful in competitive gaming since it means your enemies can't have a peeker's advantage over you.
But since this is a powerful gaming laptop, it does help casual players too because many games will break through the 60fps limit, and having the right amount of response time from your screen truly makes the experience smoother than ever.
I tried a few movies on the screen too and they all displayed just as beautifully as the video games. Every color can be seen differently and there is no unnecessary noise in shadowy environments.
And seeing sceneries of nature was very refreshing too. I'm certainly very satisfied with the display of the ROG Strix G15.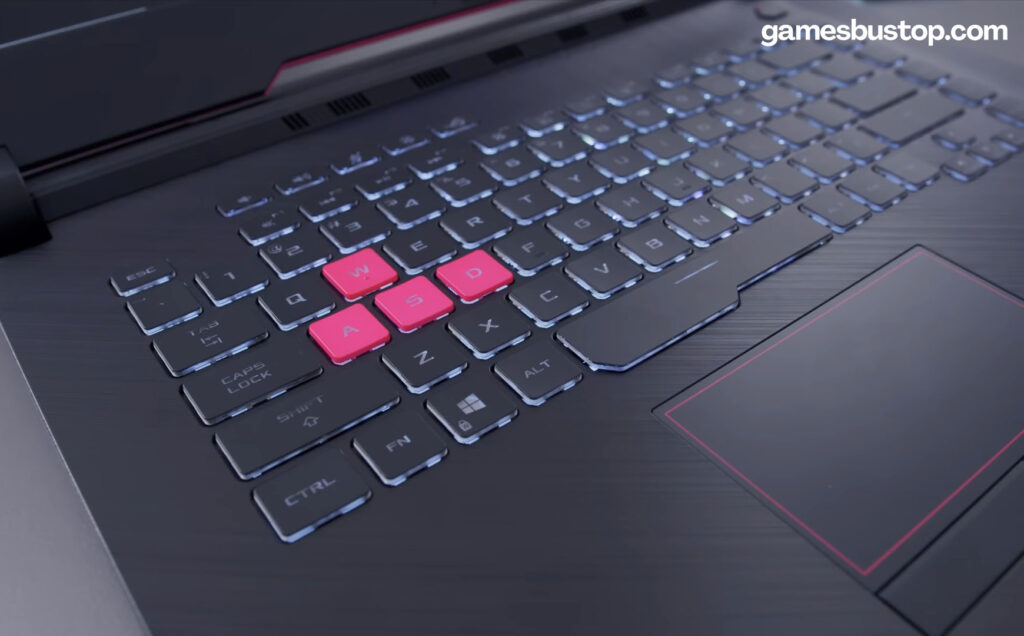 Performance & Gaming (4.3/5)
Performance is the bane of every gaming laptop. When it comes to reviewing, it's important to try out every major modern-day release, especially those that are CPU and GPU extensive so that you can push the laptop to its limit and see how it holds up.
And it's not just about running the game either, it must be stable in terms of the build too otherwise overheating can cause many problems.
These are the notable games that I tested on the ROG Strix G15:
Assassin's Creed Valhalla – Over 60FPS on Medium
Red Dead Redemption 2 – Over 60FPS on High Settings & Auto DLSS
PUBG – Between 70 to 80FPS on Ultra Settings
Grand Theft Auto V – 90FPS on Very High Settings, above 60 on Ultra
God of War – 57 to 69FPS on High Settings
Resident Evil Village – 60 to 70FPS on High Settings
Valorant – 144 to 160FPS on High Settings
Fortnite – 60 to 74FPS on Epic Settings
Far Cry 6 – 55 to 60FPS on Ultra Settings with Ultra FSR (but Low Texture Filtering)
Cyberpunk 2077 – 55 to 60FPS on Medium Settings & Auto DLSS.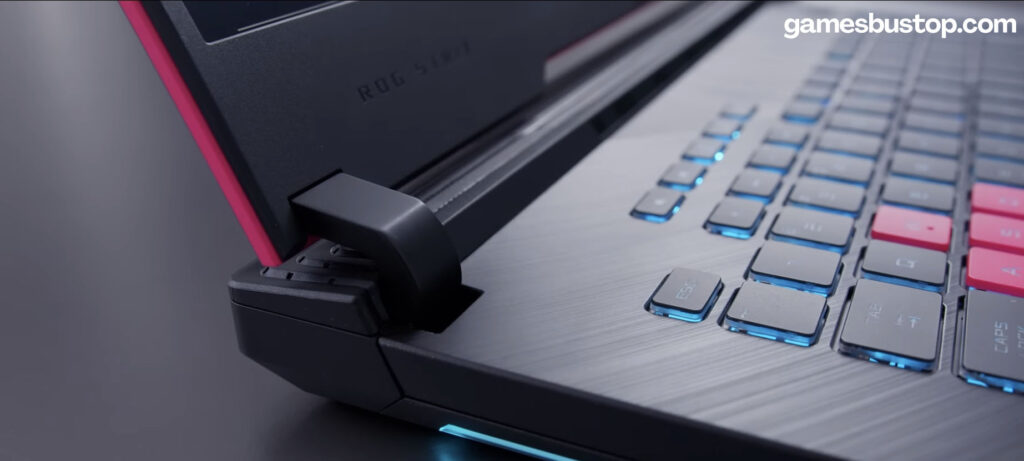 All of these games ran on 1080p settings in my benchmark, and I used Medium to Ultra settings for my test. What I listed here, in the end, are the settings that best worked for each game with flawless framerate and great graphics.
I did try Ray Tracing on some games too, such as Battlefield V where I received over 65FPS when DLSS was on too, and 46-56 without it. With DLSS, Cyberpunk 2077 had roughly 40FPS on Ray Tracing and around 30 without. Control was a more extreme case, where Ray Tracing without DLSS gave 15-17FPS whereas with it I received very playable 36-40 framerates.
And lastly, Metro Exodus was 60FPS with Ray Tracing even without DLSS, and Fortnite was 42FPS with the low RTX settings. All of these games were tested on a combination of Medium, High, and Ultra Settings with 1080p as the resolution.
So, performance-wise, the ASUS ROG Strix G15 is a very great laptop that is perfect for gamers who want a machine that will last them a couple of years. Sure, you would have to spend less for more on a gaming PC – but keep in mind that laptops always cost more due to their mobility.
Thus, both the Ryzen 7-4800H and the RTX 3050 Ti do a great job of complementing each other. Every modern game runs flawlessly on 1080p settings with a mixture between Medium, High, and Ultra settings. You might have to tweak a little to find the right mix, but for a laptop screen, the default settings will be good enough too. And you can even enjoy some RTX gaming as long as you know your limits, which is a great thing to have because it's the future of visual fidelity in video games.
As for how the laptop handles itself, the fan can be slightly noisy at times but that's not anything unheard of for gaming laptops that can run demanding video games. I did not experience any kind of overheating as long as I stayed in a room with a decent temperature, though it's obvious that you'd need air conditioning to keep it calm in warmer regions.
Of course, you can't forget the battery because that's what mobility is all about. In a video test, it lasted something from 7 to 8 hours with the brightness and volume being balanced. And when I was playing video games, it lasted a little over 3 hours, which is pretty good since all of the games that I played were running on 1080p and high settings.
Don't worry, the laptop does have a MUX switch.
Build (4/5)
The ROG Strix G15 has a good build, especially for a gaming laptop. It looks pretty good from a design perspective and comes with RGB lighting that illuminates the keyboard and the lower side of the laptop.
It has a liquid metal interface material between the CPU and cooler, which keeps the flow of the laptop as cool as possible – though the keys do feel a bit warm at times. It's not something that you have to worry about, but it does show you that no number of fans can truly keep a laptop cold after a session of some heavy gaming.
The keyboard buttons are one of the highlights of the configuration of this laptop because it feels quite spacious in its layout and the numbered keys feel fairly separated. They are responsive, feel smooth when touched, and feel great for gaming.
Things like the USB ports and the HDMI port are subtly placed on the sides, so you won't feel like they ruin the looks of the laptop at all. And lastly, the speakers are quite decent too – though any gamer would prefer attaching their headphones anyway.
It's not the prettiest laptop on the market, but it's sturdy, reliable, and very convenient in terms of its mobility.
Conclusion
I've tested, used, and reviewed many gaming laptops over the years and most of them seem to leave out an important feature here and there – which gives them a feeling of being an incomplete product. And this problem is more prevalent in reasonably priced laptops than anything else.
Fortunately, the ASUS ROG Strix G15 is an excellent option with powerful specifications that beautifully work with each other, and it does not compromise performance, display, or build quality.
It runs every game perfectly well and I did not have to tweak any settings for good graphics and great performance most of the time. And even when I did raise the settings to push the laptop to its limits, it held its ground very well.
Whether you're a casual gamer or a hardcore one, if this laptop is within your price range and you don't care about 4K gaming – then you shouldn't waste any time and bring this gaming laptop home because it does not have any deal-breaking flaws.
Don't worry, even if you play games as a secondary hobby and use your computers for work – the battery lasts a long time on browsing and video playback. And with its Ryzen 7 processor, 32GB RAM, and 2TB HDD, you will experience lightning-fast processing speed that will make every task extremely convenient.
Do keep in mind that this laptop has many variants, so make sure you check the price and specifications before making your purchase. And you shouldn't shy away from purchasing a variant with an RTX 3060 or 3080 either if you can afford it and want more stability with higher-than-HD resolutions.
Image credits: Dave2D, Youtube.
ASUS ROG Strix G15 Gaming Laptop Review
ASUS ROG Strix G15 Gaming Laptop Review
The mid-range gaming laptop of your dreams.
The mid-range gaming laptop of your dreams.
Pros
Overall decent performance.
Solid display.
Great price point.
Cons
Graphics card getting outdated.
Pretty much mid-range.