Lost Ark is an expansive ARPG filled with many gameplay mechanics. Whether it's the intense action, addictive progression system, or the challenging raid bosses – it's a game that keeps you busy for dozens of hours.
One of the most interesting things in Lost Ark are the Masterpieces, which are Collectible Items that the player can obtain in different parts of the game. Once you gather a bunch of them, you can start exchanging them with an NPC that gives you generous rewards for your trouble.
Since you're here, it's fair to assume that you've already gathered a bunch of Masterpieces and now need to know where you can turn them in for the rewards. And doing that is not very obvious at first since it's easy to get confused by how many NPCs and locations Lost Ark has.
Fortunately, we're here to guide you with where to turn in Masterpieces in Lost Ark to get awesome rewards! Let's get started.
⚡ Gaming Deals too Good to Pass On ⚡
Where to exchange Masterpieces in Lost Ark
There are many ways to get Masterpieces in Lost Ark, and approximately 52 of them are in the game. If you have not gathered any of them yet, a few examples for how you can get them are:
Get 30 Island Tokens.
Complete the Artist in Residence quest in Sunflower Island
50% Completion rate of the Adventure Tome in Tortoyk, Anikka, East Luterra, and North Vern.
Once you're ready to turn your Masterpieces in, it's time to head over to an NPC called Alfons Vedice. To find this NPC, you need to head over to the Sunflower Island which can be located easily on the map.
After reaching the island, you'll find Alfonso right away on the bottom side of the map. You can open the map to find the right spot to make the process easier.
After you run into Alfonso, you can start exchanging your Masterpieces for rewards by interacting with him. It's a quick process, and you'll quickly find more Masterpieces once you're done getting the rewards.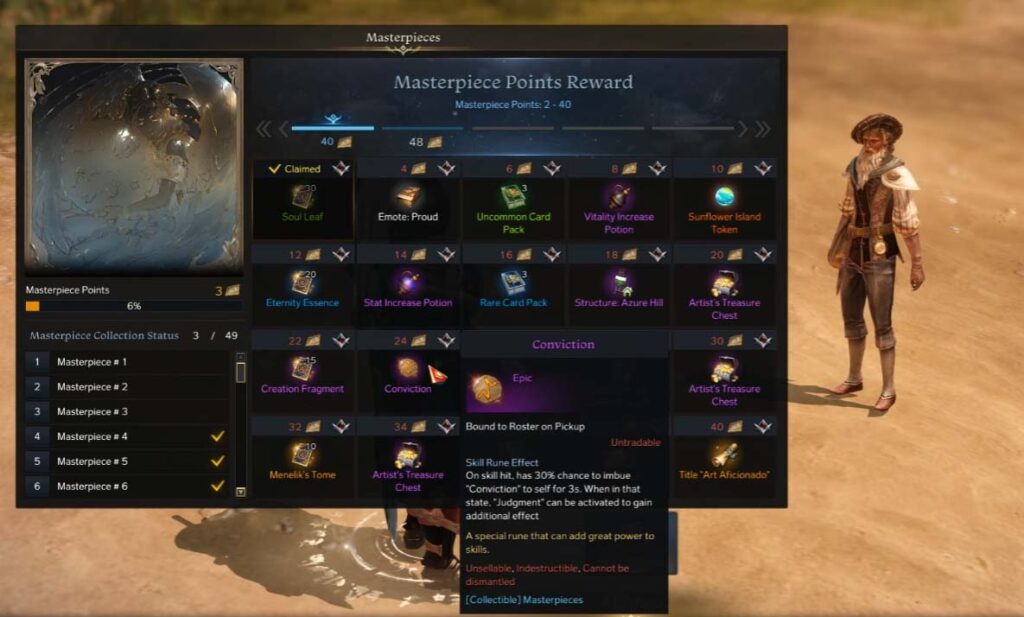 That's all you need to know about how to turn in Masterpieces in Lost Ark.
We hope you found this guide useful and have already received these useful rewards. It certainly helps you get these early into the game, which proves vital for your character's stat growth.
While you're still here, make sure to check out many of our other helpful gaming guides too!